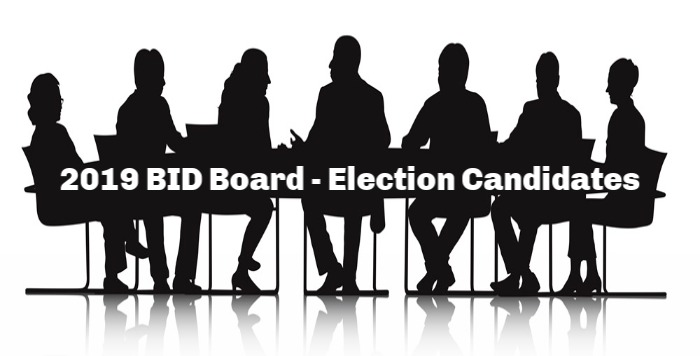 Directors Slate – 2019 Candidates
Peekskill Business Improvement District Board of Directors
The 2019 ballots for the Peekskill Business Improvement District Board of Directors have been mailed to all known eligible BID members in accordance with BID Bylaws. If you are an eligible property owner or tenant in a commercial space and you did not receive a ballot, please reach out to Executive Director Bill Powers at peekskillbid1@gmail.com or download your 2019 ballot kit below.
2019 Ballot Kit
Biographies of 2019 candidates:
Note: There are three property owner seats and one tenant seat up for election.
Brendon Fitzgerald
Owns: 931 Diven Street
Running for Property Owner Representative Seat

Brendon Fitzgerald was elected to the Peekskill Business Improvement District Board of Directors in 2017 and served as the Board Vice President for the past year. He is running for a second two-year term.
Mr. Fitzgerald was instrumental in chairing the committee for the first-ever Peekskill Harvest Festival in October 2018, sponsored by the BID.  In addition, he spearheaded the 2018 Flower Barrel Plantings and has been instrumental in seeking cost savings in the operation of the BID wherever possible.
He received his Master's in Organizational Leadership and his Bachelor of Science in Organizational Management from Manhattan College in 2014 and 2012, respectively. He is a graduate of  Walter Panas High School.
Mr. Fitzgerald served in the United States Marine Corps from 2003-2007 as an Infantryman, Operation Iraqi Freedom; as Marine Security, Hawaii as a Member of an elite emergency response team that was deployable to anywhere in the world within 24 hours' notice to protect Americans; and as Radio Operator, Operation Enduring Freedom, Afghanistan. He currently serves as an Air Force Fireman.
Professionally, Mr. Fitzgerald has worked in a variety of supervisory and management capacities at Con Edison since 2008. Additionally, Mr. Fitzgerald works as a Real State Salesperson for J. Philip Real Estate. He is also the proprietor of Havana on the Hudson, a private cigar lounge located in Downtown Peekskill. 
Lafern Joseph
Owns: 13 South Division Street
Running for Property Owner Representative Seat
Lafern Joseph is a prominent business owner and downtown Peekskill property owner.  She is the proprietor of The Fern Tree African Gift Shop, next to the chamber of commerce.
In addition to being a business owner, Ms. Joseph is a Credentialed Alcoholism and Substance Abuse Counselor (CASAC) with a Bachelors of Science in Biology from Brooklyn College.
Her professional experience includes:
1997-Present: Sisters In Support, Inc.-Founder/Chairperson
2001-2014: Catholic Charities Community Services-Senior Substance Abuse Counselor
2000-2006: St. John's Riverside Hospital-Substance Abuse Counselor
1990-1998: Westchester County Dept. of Corrections-Substance Abuse Counselor
Her professional and community affiliations include being a member of the Smithsonian Institute; Board Member, Westchester Women's Advisory Board to County Executive; Lifetime Member and Honoree, NAACP; member, Hudson Valley Gateway Chamber of Commerce; Chairperson, Peekskill African American Festival; member, Black Women's Leadership Caucus of New York State; member, Lincoln Train Station Restoration.
Ms. Joseph has experience in motivating teams and creating an environment for personal growth and learning and has a track record of success in working with nonprofit organizations and community groups.  She is particularly proud of her work in assisting women with special needs by empowering and motivating them with socialization skills.
David A. Kaminsky
Partner: 1006 Park Street
Running for Property Owner Representative Seat
Mr. Kaminsky is the founding partner of David A. Kaminsky & Associates, PC.  He is recognized as an industry leader and a prominent real estate and landlord-tenant attorney throughout New York City.  He is a managing member that owns 1006-1010 Park Street and is in contract to purchase 1012 Park Street.
While his practice is in New York City, Mr. Kaminsky owns two area townhouses and notes that he enjoys the restaurants and cultural experiences offered by Peekskill.
His practice includes real estate litigation, real estate counsel, real estate transactions, landlord liability claims, loft law litigation, construction litigation, commercial leasing, and general legal practice. He has experience in small and large commercial transaction, condo and coop transactions, construction loans and more.
He has appeared as an expert in the New York Times Question & Answer Column and is a noted lecturer and panel participant on landlord-tenant law at the New York City Association of the Bar.  He is also a certified Real Estate Instructor.
Mr. Kaminsky has been in private practice since 1985, was admitted to the NYS Bar in 1984, Southern and Eastern Federal District Courts in 1984, and the United State Supreme Court in 1994.
He received his J.D. From Brooklyn Law School and his B.A. in Political Science from New York University.
Evelyn Lee
Proprietor: The Evolution Gallery – 922B Main Street
Running for Commercial Tenant/Artist Representative Seat
Evelyn Lee opened her business, The Evolution Gallery, in 2018 and immediately immersed herself in the Peekskill business community.   Ms. Lee was responsible for developing the city's first ever "Holiday Stroll" in December to attract more holiday shoppers into downtown.  She is now working on launching Peekskill "First Fridays" to bring more foot traffic to Peekskill—all while running her own business.
Ms. Lee has worldwide product design and packaging, strategic analysis and planning and visual design experience.
Prior to opening her gallery, Ms. Lee owned and operated Lee-Aison Creative in White Plains where she project-managed the global redesign of Dove® bar soap and the global introduction of Dove Baby.  She also managed the artwork and created a business process/work stream for a new line of hair-care products, Virtue®, which launched last Fall on HSN.
Ms. Lee has also served in senior brand positions and/or management at Unilever, Clairol, and Fuji Capital Markets.  She received her Bachelor of Science in Business Administration (Magna Cum Laude) from Sacred Heart University and has engaged in Extensive Professional Studies from the Fashion Institute of Technology.
Monique Michaels
Proprietor: Monique Michaels Art & Photography – 922 Main Street
Running for Commercial Tenant/Artist Representative Seat
Monique Michaels is an award-winning photographer and regular contributor to The New Yorker, Manhattan, Angeleno, C, Los Angeles, and Pasadena Magazines. She recently relocated to the Lofts on Main.
She was an active member in the community of Venice, CA and helped with the revival of Abbot Kinney Boulevard, Rose Avenue, and the Boardwalk.  Ms. Michaels also helped organize the first-ever "First Friday" that brought people from all over Los Angeles and beyond to discover and spend money at local shops, restaurants, bars, galleries, and specialty stores.
While her personal photographic work favors medium format film photography, her digital work features portraiture, lifestyle and journalistic style street photography.  Her fine art imagery has been exhibited in both solo and group shows at the MOCA/Museum of Contemporary Art, Los Angeles, Anderson Chase Gallery, Katonah, NY, and Greenwich Arts Society, Greenwich, CT, among many others around the nation.
Ms. Michaels is a member of the American Society of Media Photographers, American Photographic Artists, Advertising Photographers of America, Press Photographers Association of Greater Los Angeles, Center for Fine Art Photography, Croton Council on the Arts, Rowayton Arts Center, Stamford Artists Association, Greenwich Arts Council and the Greenwich Art Society. In addition, she served of the Board of Directors of the MOCA Contemporaries in Los Angeles from 2011-2013.
Ms. Michaels was born and raised in Chicago, lived and worked as an artist in Venice, CA for over a decade before coming to Peekskill.